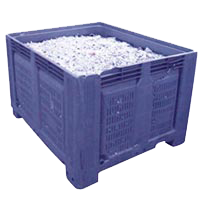 Are you looking for a plastic recycling service in Widnes that offers effective plastic recycling solution for your business? Currently, the United Kingdom produces plastic waste of three million tonnes – a large part of this number ends up in landfills. According to environmental experts, the impact of plastic waste is colossal; recycling is one of the best and immediate ways to lower the impact of plastic waste.  It is important to choose a plastic recycling company like Elsa Plastic Recycling that is geared to deliver effective plastic recycling service for your business. This company has built infrastructure and logistics network to make plastic recycling easy for you. By choosing to recycle, you will be contributing your quota to saving the environment.
In Widnes, a plastic recycling service is provided by Elsa Plastic Recycling, a specialist division of Elsa Recycling Group. This company can effectively handle any grade of hard and soft plastic, uncontaminated and contaminated plastic, and you will be pleased to know that Elsa Plastic Recycling can also arrange to have your plastic collected.  This recycling company provides cost effective plastic recycling services that you can count on. As an accredited plastic recycler in the UK, this company can supply you with PERN's in order to help you meet your annual recycling obligation.  Elsa Plastic Recycling is the plastic recycler of choice for several local authorities who help to arrange collection and processing of a variety of plastics.
When choosing a plastic recycling service in Widnes, it is of the utmost importance that you choose a recycler that can handle any type of plastic waste. Elsa Plastic Recycling can handle small scale mixed plastics and turn them to a complete bale of industrial plastic.  This recycler can also handle everything involving plastic recycling; from collecting the plastics to be recycled and carefully sorting them to completion. This recycler will also work with you in order to ensure that the process is a hitch-free one.  Elsa Plastic Recycling currently handles plastic recycling for several well known clients including large scale manufacturers and local authorities. Call Elsa today and help save the world.